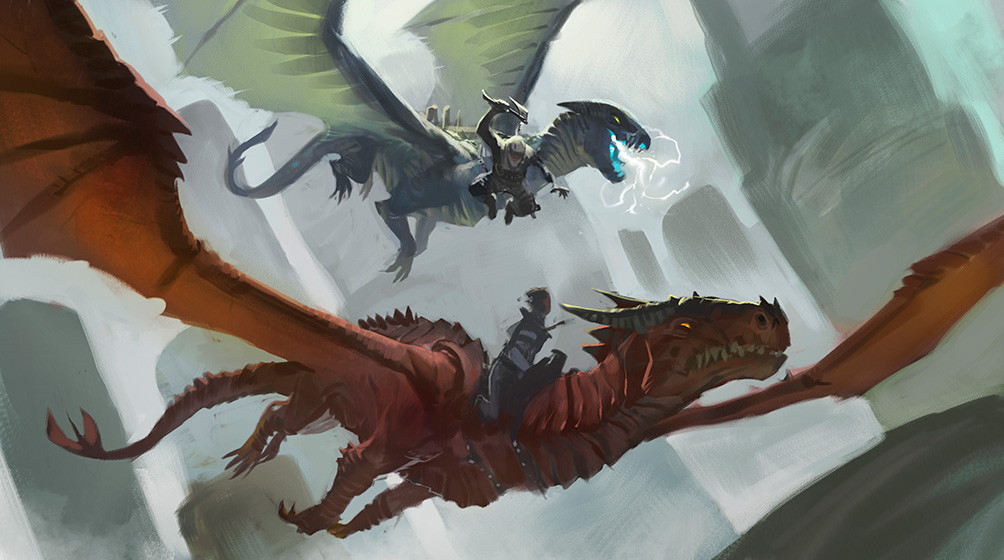 Dragons of Elanthia is a fast-paced and high-flying multiplayer shooter that puts you in control of a powerful and ancient dragon! Set in a world wracked by uncontrolled magic, the game features an ever-expanding roster of dragons and riders. And it's completely free to play!
Mix and match characters!

Pick from eight powerful dragons and eight legendary riders to find a combination that suits your play style! Or just find the combination you need to counter your opponent's!

Blast 'em out of the skies!

We wanted every dragon and every rider to feel different in a fight, so we've worked tirelessly to make each and every one of their abilities unique and interesting. Want to get up in your enemy's face and blast them? There's a dragon for that. Want to slowly whittle them down from a distance? We've got a rider you'll like

Free to play, NOT pay to win!

Dragons of Elanthia is 100% free to play, and we mean that. We want this game to be accessible to everyone, and that means keeping the playing field level between free and paid players.

Level up!

The riders and dragons you use in a match gain experience over time, leveling up and becoming even stronger!

Game modes for everyone!

From classic deathmatch to full-blown sieges, there's always something exciting to jump in on. And of course, we're always working on new modes to really get the most out of our dragons.

Spectate away!

Don't have time to play? Just want to watch and learn? Our dedicated spectator mode lets you fly around a match and focus on what you want.

Massive, beautiful maps!

Play in a wide variety of environments, from magic-scarred canyons to dormant volcanoes! The world is a dangerous and beautiful place with this many dragons around, and the terrain offers strategic advantages to those who learn it.

Freaking Dragons!

Just in case you forgot, the game has dragons and they are awesome!